Please note that the tools illustrated below were designed and hand made by me. As with all hand made items, subsequent productions will not be identical to the originals and will likely incorporate improvements resulting from experience in use. I do not carry a large stock, so please enquire regarding delivery dates for specific items. All tools include instructions, and in some cases, a full repair manual is available.

I am willing to quote for tools made up to your design specification.

If you wish to purchase, please e-mail me (laurence@penpractice.com) for availability, shipping cost and method of payment.
Mabie Todd Swan Visofil VT tools
.

Nut tool
£26
Tools for plug removal
£32.
Button pin removal tool
£8.
Note that all VT pens require the nut tool. About 90% of pens have their end plugs glued in or are such a tight fit that the pen mechanism will be damaged before they can be pulled out. The safest way is to use the plug tool, but a new plug must be made using any convenient material (hard rubber, cork etc). The plug does not need to be a good seal to the pen barrel.

Please look at my article on the VT referenced from the Technical page.

Waterman Ink-Vu tools

Small and large size dismantling tools
£25
each: these tools provide a secure location on the sac nut. This function can also be performed by the spanner, but the risk of damage to the delicate hard rubber components is much higher. The spanner is required for mounting the new sac (2- sizes in one)
£15.
De La Rue Piston Filler Tools

Tool for removal and reseating of cork seals
£36
, tool for removal of hard rubber pins
£8
and a block (5601 and 6234 type pens) for supporting the pen and piston head whilst knocking out the rubber pin.
£12.

Tools for making seals are shown below.
Conway Stewart cap tool

Tool for removal of 'nut and bolt' type clip screws found mainly on the CS84, but occasionally on CS58/60. The pins on the end of the driver engage the fine slits in the nut. Screws are often corroded and a good soak in cold water is often required to soften hardened ink deposits.

Full instructions and hints provided.

£24
Nib Section Knock Block


This tool enables the safe removal of the nib and feed from the section.

Two drift rods are provided, one with a central hole so that sections with fixed breather tubes can be removed.

Price £15

Tool kit for de-dinging metal caps (especially Parker 51)

The universal cap dismantling tool extracts the metal clutch/liner from metal caps and the inner cap from plastic caps. This enables work to be carried out on clip attachment or the removal of dents in caps.

Precision cap mandrels are available to support the cap wall while 'dings' are removed with a polished steel roller. Ding removal is particularly effective on gold, silver and gold filled caps, but it also works on steel caps.

Attachments are available for dismantling plastic caps so that work may be carried out on the clip attachment.

The standard tool in a wooden box includes only the extractor, expander pin and the instructions. Price
£78

For each type of cap a collet set is required at
£28 per set

The range of collet sets includes Parker 51, 61, 75 barrel, Jotter, Sheaffer PFM, Imperial, Crest (3 sizes), Reminder ballpen. Others can be made to order.

The accessories required for plastic inner cap extraction include 3 sizes of pullers to cover the full range of cap diameters. The set includes a threaded expander pin
£98
Mandrels
£25
(PFM and square topped Imperial
£45
).
Polished steel roller
£6.

A full kit for de-dinging Parker 51 caps is therefore
£78+28+25+6 = £137

Ding removal with the mandrel and roller
Cutters for piston pen washers (Sheaffer, Eversharp, Onoto - Sheaffer set illustrated)

The washer cutters are in two parts - the inner and the outer. The outer is
£19
and the inner
£8.
For the Sheaffer set here, the 2mm inner is common to all three sizes. A few Sheaffers require a larger inner. For Onotos, the inner is the same diameter for all pens. The outer diameter for Onoto Magnas has four variants, but it has been found that the smallest and the largest washers cover all Magnas adequately.

Cork seal cutters (Onoto and Conway)

These tools are cutters, not punches. They are made from mild steel, which is fine for cutting cork. Other types available to special order.


Universal inner cap extractor in a wooden box with four sets of collets (for PFM, Parker 51, Reminder ballpen and Sheaffer Crest caps).
Parker Vacumatic diaphragm tool


This tool indicates the correct length for the diaphragm, holds the ball in position so that you can push it into the holder, and it also helps you to turn the diaphragm inside out (after coating the rubber with talcum powder).
£15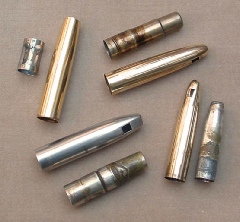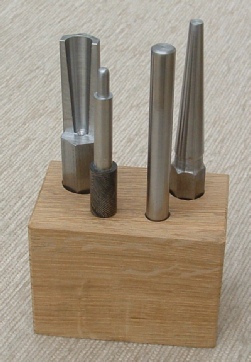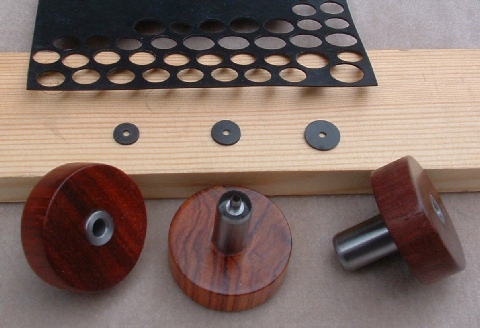 Taps


Made to customer requirements - Conway cap buttons, Visofil plunger etc. Price on application.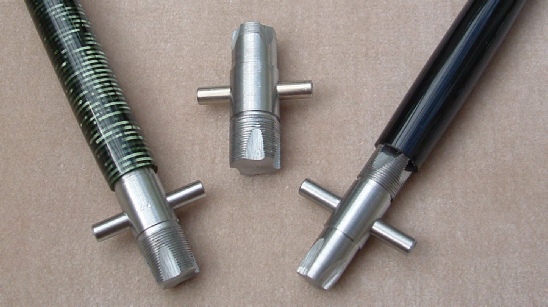 Vacumatic thread and seal cleaners


Pump socket cleaners are available in three sizes (Lady/P51, Standard and Oversize. This double ended tool is designed for two tasks. The first is to clear/clean the pump socket threads, and the second is to clear debris from the diaphragm seat.

Perhaps due to plastic shrinkage or incorrect use of sealant on the threads, it can be difficult to screw in the restored pump and thereby risk breakage of the plastic. Use of the thread chaser will ensure easy fitting of the pump.
The diaphragm seating collar can often be difficult to clean due to hardening of the old seal and many have been scratched or damaged resulting in poor sealing. This tool is shaped to match the angle of the seal and will safely scrape off the old material and leave a smooth sealing surface.
The tool material is mild steel and can be sharpened easily with a file.


Price £19 for each size of tool